On our long overdue vacation in Portugal to visit family (it's been four years!), we've kept busy trying to get in everything we've missed. My husband grew up here, and I've spent an accumulated two plus years in the country over the past thirty or so years. We took the younger four of our seven children, two boys and two girls.
Oure first week went well, with me eating a record number of mil folhas, but then we were hit by a record heat wave! We reached 109.4 Fahrenheit at one point. My mother-in-law's apartment has no air conditioning, so it was a bit of a challenge staying cool.
But nights at the beach were fabulous. More than once we'd go around four and couldn't make ourselves leave until the sun set. In the above picture, you can see my two youngest enjoying the beach as the sun sinks beyond the ocean.
View out kitchen window
This is the view out of my mother-in-law's kitchen window. I love seeing all the red rooftops!
Sardines, Portuguese style
My husband loves these and eats them at least once every time we come here. I am not a fan. We also eat a lot of codfish dishes, which are amazing.
Beach tent a hit
I bought this fabulous beach tent on Amazon before we left, mostly because it fit in my suitcase. It has been great for party-pooper kids to hang out in and to put our cooler and beach bag. (We're getting ready to leave in this picture, so there isn't much in it at the moment.)
Building with sand
Here are the girls again on the beach. We are always making barriers in the sand to capture water. My boys have typically dug deeper than their heads in past years, but the girls like to make pools.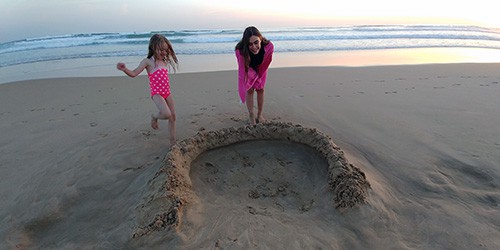 Parque do Tejo
Below are some pictures taken in the Tagus Park (Parque do Tejo) in Lisbon near where the World Exposition 1998 was held. Always a nice location to visit during a vacation in Portugal. The Tagus River (Rio Tejo) is in the background, and you can see part of the Vasco da Gama bridge.
By the way, my daughter's name is Lisbon and she loves that this is HER CITY.
Another view of the park. My sons in the foreground and my mother-in-law and brother-in-law seated on the bench in the background.
Pausing for a chocolate break in the park. My husband's holding the chocolate on his lap, while I get the baby, lol. (I know, she's not a baby, but she's my baby.) The wind was blowing a bit, but it was warm, so we were glad for it.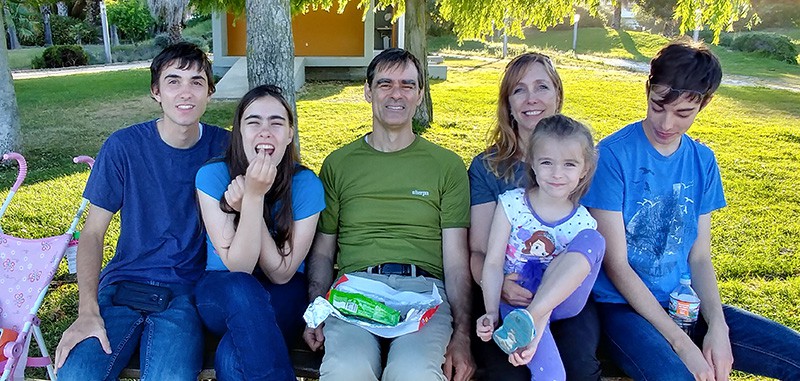 Meeting new friends while on vacation in Portugal
Lisbon met a new Portuguese friend at this fun children's park in the Costa da Caparica.
Park in Cova da Piedade
There is a lovely park in the Cova da Piedade with two large parts. One has a big field surrounded by trees and a trail going through the trees to walk on. The other section has large grass fields and trees, a fountain, modern art, and a lake that is home to many ducks, geese, and pigeons.
Below, my mother-in-law is helping my daughter feed the birds corn.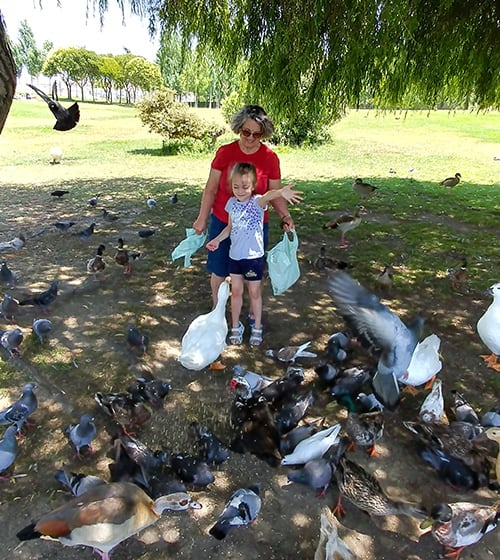 Many of them are rather friendly. Below I am helping Lisbon feed a duck by hand. Some of them are kind of scary about how eager they are, but my favorite, a white goose, was very gentle, almost delicate, about taking the food.
Okay, that's all for today, though just a tiny portion of the photographs taken (of course). I'm sure we'll take a lot more. So excited to be on vacation in Portugal and hope that we can come here again soon.

Copyright 2017 Teyla Rachel Branton
Reuse notice: you are free to print for personal use or non-commercial use with friends, share this post link anywhere, quote a short excerpt with attribution and a link to this site, but you may not use this post in its entirety on your own page. Thank you for caring about copyright.