After some deliberation, we're thinking of entitling Lisbon's Misadventures, Book 2 I Don't Want to Be Hot. We wanted to stay with the "I Don't Want" theme. However, the "Hot" doesn't really seem to be as funny as I Don't Want to Eat Bugs, so I'm not loving it at all. Using a title like this means I would need to use something like I Don't Want to Go to Sleep for the third book, (the working title was A Better Place to Sleep), and I'd be stuck using the "I Don't Wants" for every book after that.
What I really wanted to entitle it
I actually WANTED to call the second book, Sitting Under a Cat is Hot, and I still might, but that would throw the "I Don't Want" theme out the window. Also, while there is an illustration of my character sitting under the cat (and a rock for that matter) inside the book, it has a white background and can't be used for the cover. There is a picture of her trying to squeeze into the shade with the cat, though and I love that picture (you'll see it below).
Sneak peek
So here is a sneak peek of the artwork in these cover mockups. Which do you like better? Which do the kids you know like better? The artwork is actually brighter than the first book, so for the release, I've also brightened the cover of the first book, which I'm including here as well as book 2, so you can see which go together better. These are the ebook covers, which mean they are a couple inches longer than the print covers.
Let me know if you have title suggestions! The plot of the book has Lisbon going around trying to find a way to stay cool on a very hot day.
Book 1 (already published):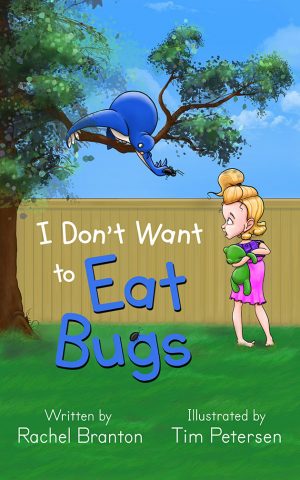 Book 2, Options 1 and 2:
I love this picture, but the text relating to the picture is difficult: I Can't Cool off in a Birdbath, or Birthbaths are Too Small. Hmm. Ideas? A Better Way to Stay Cool (which I just thought of right now based off book 3's working title) might actually be good for any of these covers, so here is a mockup of that as well.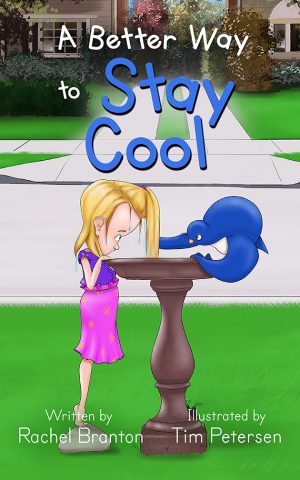 Book 2, Option 3:
This is one of the most beautiful illustrations, but because Lisbon works at solving her problems with her animal friends, it's less descriptive of the entire book. However, because of the popsicle, my five-year-old LOVES this for a cover. Text again is difficult, but A Better Way to Stay Cool would work (and I have a lot more title options for book 3, so I could steal that one).
Book 2, Options 4 and 5:
I love this whole idea here. As I said above, we can't use the picture of her actually under the cat, but this is a fabulous picture. The "A Better Way to Stay Cool" would also work for the title (not as catchy as "sitting under a cat . . ."). But my little girl doesn't like this cover as well as the others because of the tree "shade" on the cat. To her it looks dirty. The artist could remove that for the cover, however. I also like the purple text to make it a bit different from the first book (and because there is no bird in the picture this time).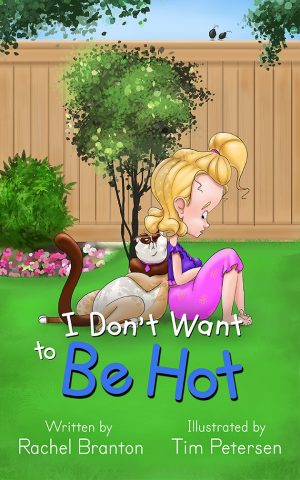 Which would most likely entice you to pick it up?
I'd love to hear what you think about these covers and title ideas! Thank you!
UPDATE: Thank you for all the emails and private feedback. Please visit the next post to see where we're heading now.