One of my favorite things to do when in Portugal is to walk around the old part of Lisbon. There seems to always be something fun going on, and the architecture is unparalleled. We always begin in Almada on the other side of the Tagus River because the kids love the ferry ride. Now that we have a daughter named Lisbon, visiting the city Lisbon is even more fun for our family.
Ferry from Almada
Lisbon has ridden the ferry before, but it was all new to her this time at almost eight-years-old.
In my first days in the country thirty-odd years ago, the ferry from Almada used to embark/debark from the Praça do Comércio (Commerce Square), but now the station has been moved about a five-minute walk away near the subway station. Probably a good idea because of the crowds, but I MISS the rush of getting off the ferry and being swept across the square.
Below is the part of the walkway from the ferry to Commerce Square. The Tagus River isn't all that clean around here with all the ferries and boats passing, but there were still a few people in the water. We saw people doing elaborate sand sculptures, using trowels and even spray paint. Other people sell trinkets, but just a heads up that any trinkets you buy along the road are probably less expensive in the stores, unless you know how to negotiate.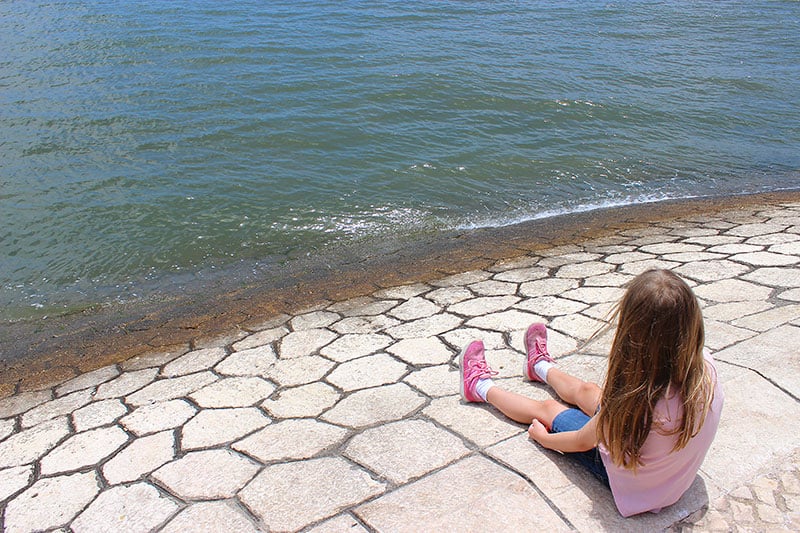 Below is a view from Lisbon. You can see Cristo Rei (Christ the King) statue across the Tagus in Almada. You can also see the April 25th Bridge in the distance (which is also really cool!). The boat below is not the ferries, but just one of the touring boats you can hire. The orange-yellow and white ferry boats are so familiar to me, that I just didn't think of snapping a picture.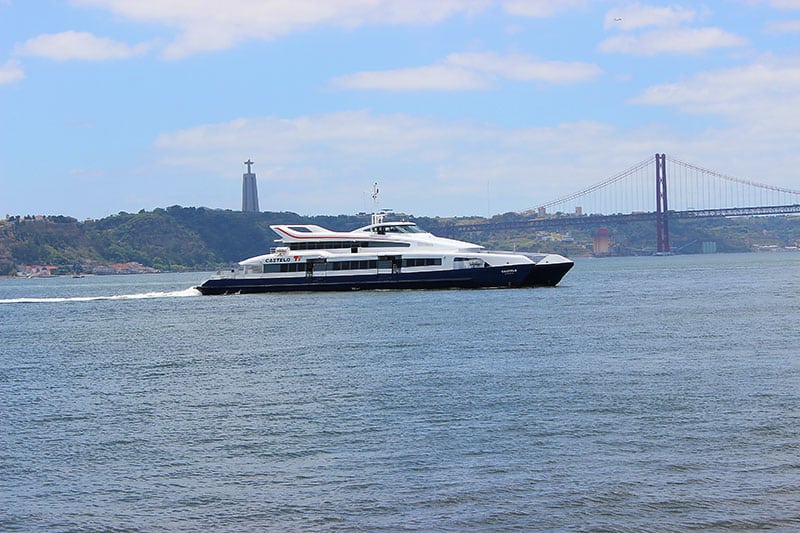 Praça do Comércio (Commerce Square)
Here's the square. Always lots of people and pigeons. In the background you can see the trees around the Saint George Castle.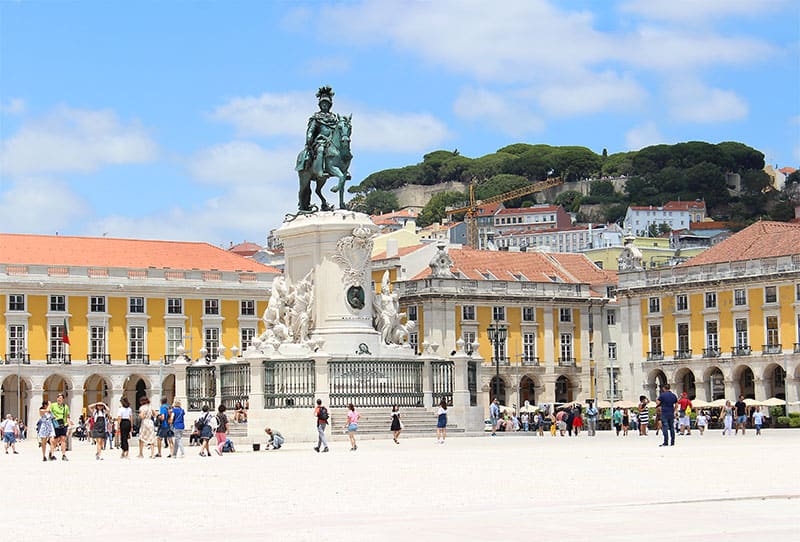 This statue is of King José I, who is symbolically crushing snakes on his path.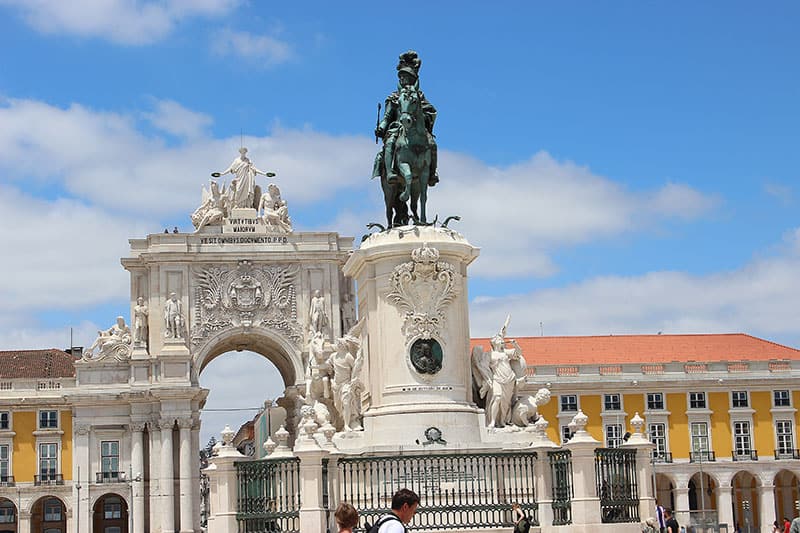 Also in the square is the Arch of Rua Augusta (or Arco Triunfal). It's a fun road to walk down, full of restaurants and shops. 
Often there are interesting people in Commerce Square
This time we saw a man blowing bubbles.
My daughter Lisbon really loved the bubbles.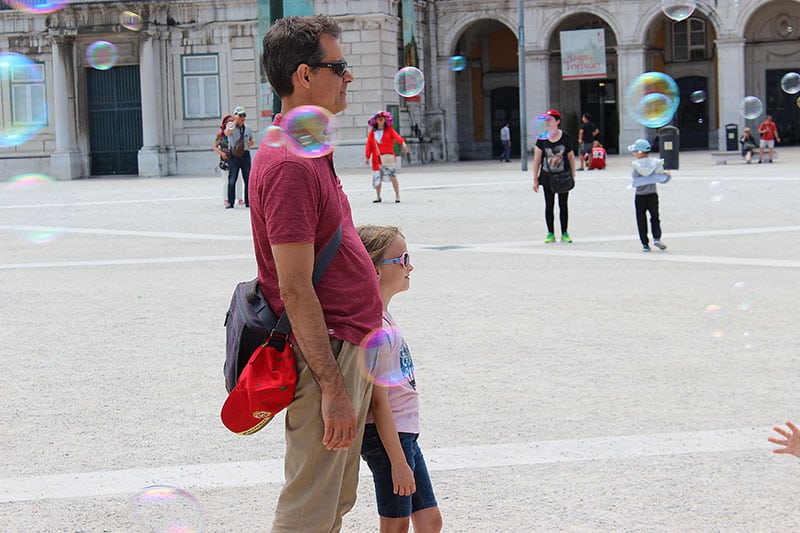 We also saw this interesting character.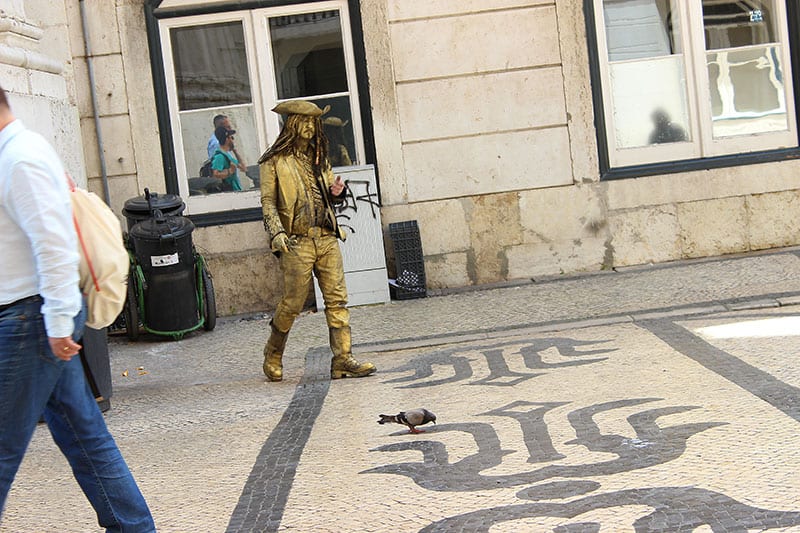 Shopping
There are all kinds of touristy types of stuff to buy. We loved looking at it all. Below are little copies of the actual trolley cars still in the streets. My sixteen-year-old Liana is taking most of these pictures. She found Lisbon a willing target.
Lisbon loved the snow globes.

Cork is a large export in Portugal, and I made sure to pick up a few of these cork and tile trivets to use at home.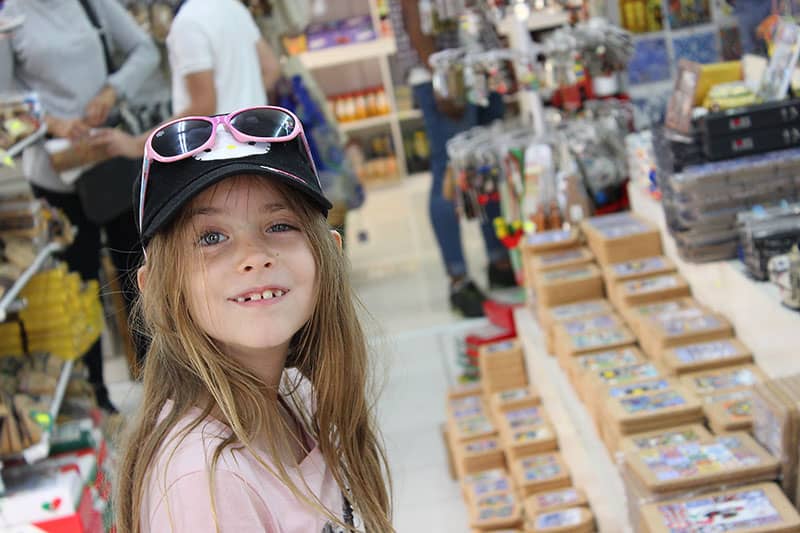 From pottery and T-shirts to serving trays and a aprons. There's something you'll find to take back to remember your trip.

Cafés and Cobblestones
I love the atmosphere. There's plenty of food if you're hungry and if you want your own personal tour, you can hire a three-wheel taxi like the one below.
Look at the architecture on this train station.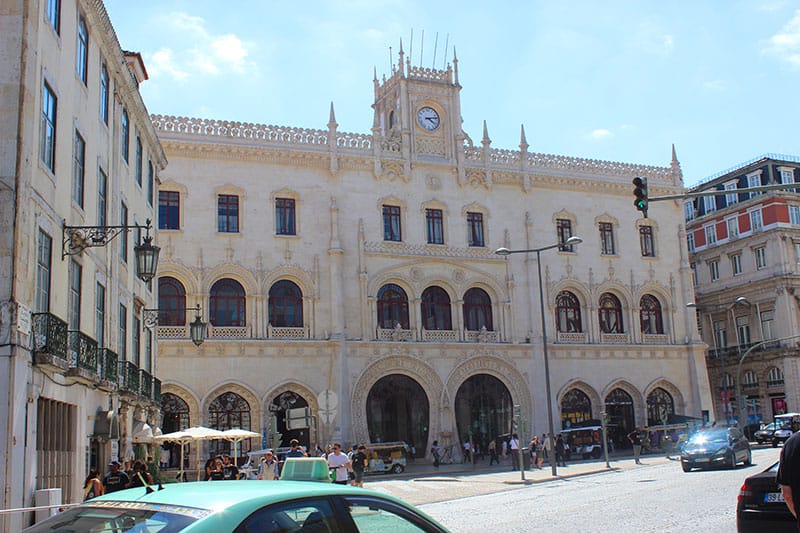 Every-so-often you'll run into another square with yet another monument or two. And more decorative cobblestones.
Here is the other side of the above square.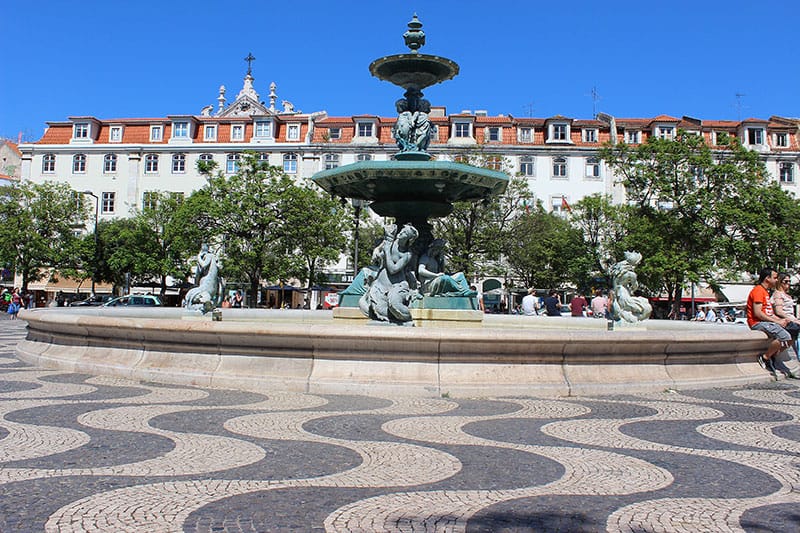 And a close up of the architecture.
Lisbon in Lisbon Eating Mil Folhas
Of course it wouldn't be an Portuguese outing without our favorite mil folhas pastry. This one has yellow (egg) topping instead of the typical white. Lisbon is definitely enjoying her time in her city.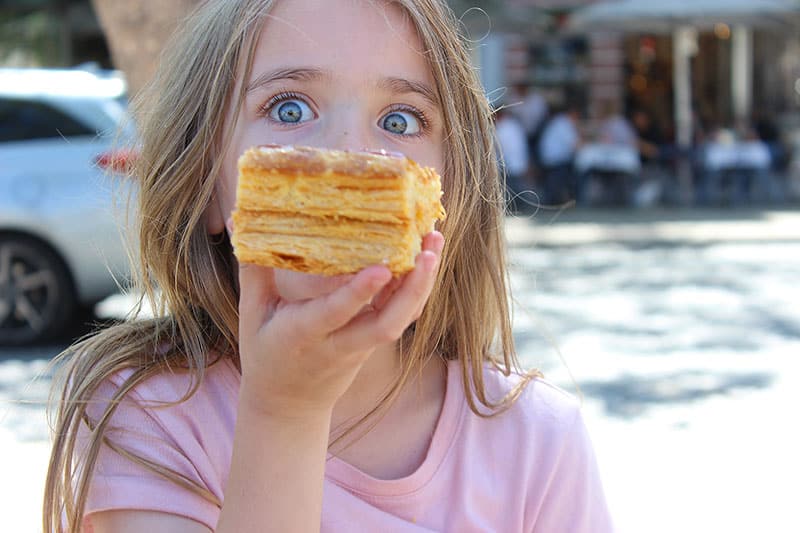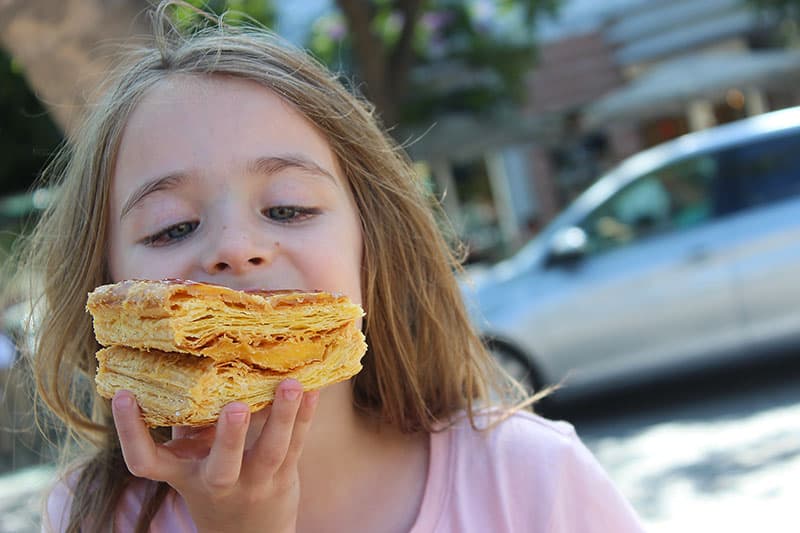 Give me some of that! I try to grab a bite because I already finished mine.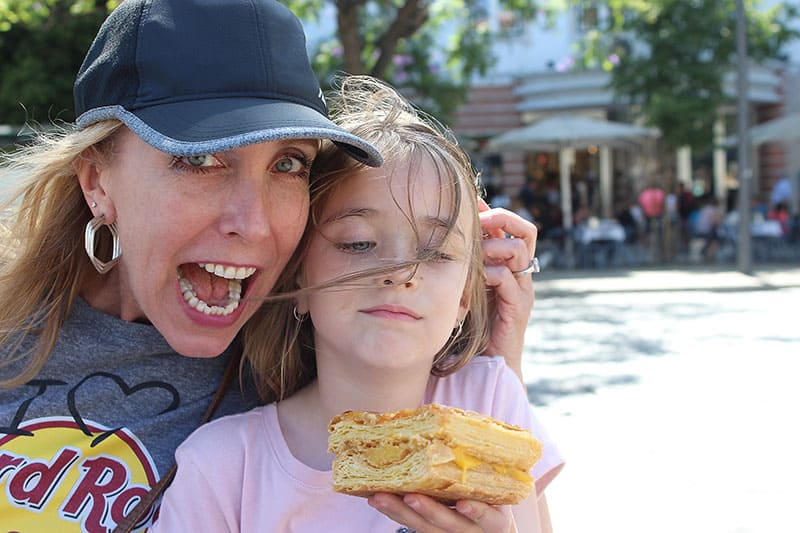 Taking the Ferry Home Again
We even wore Lisbon out! After a short rest, it was time to head back to the ferry to Almada where we left our car. From there, it's only a five-minute drive to Cova da Piedade where my mother-in-law lives.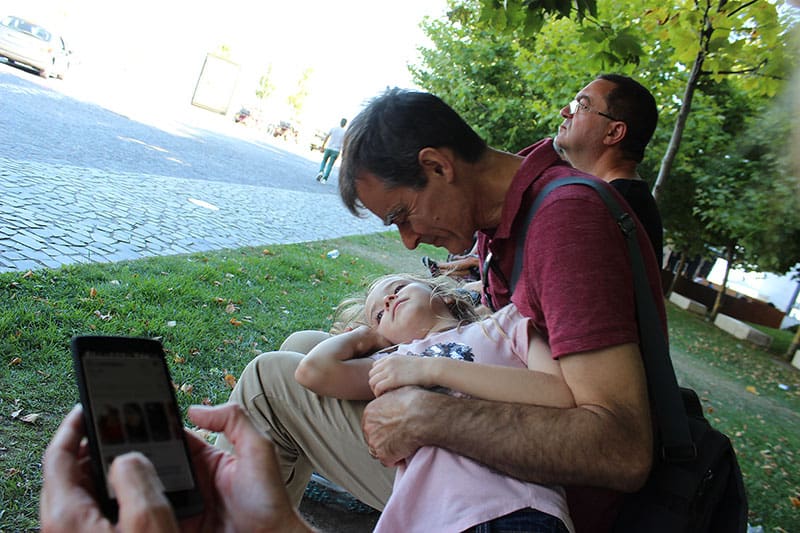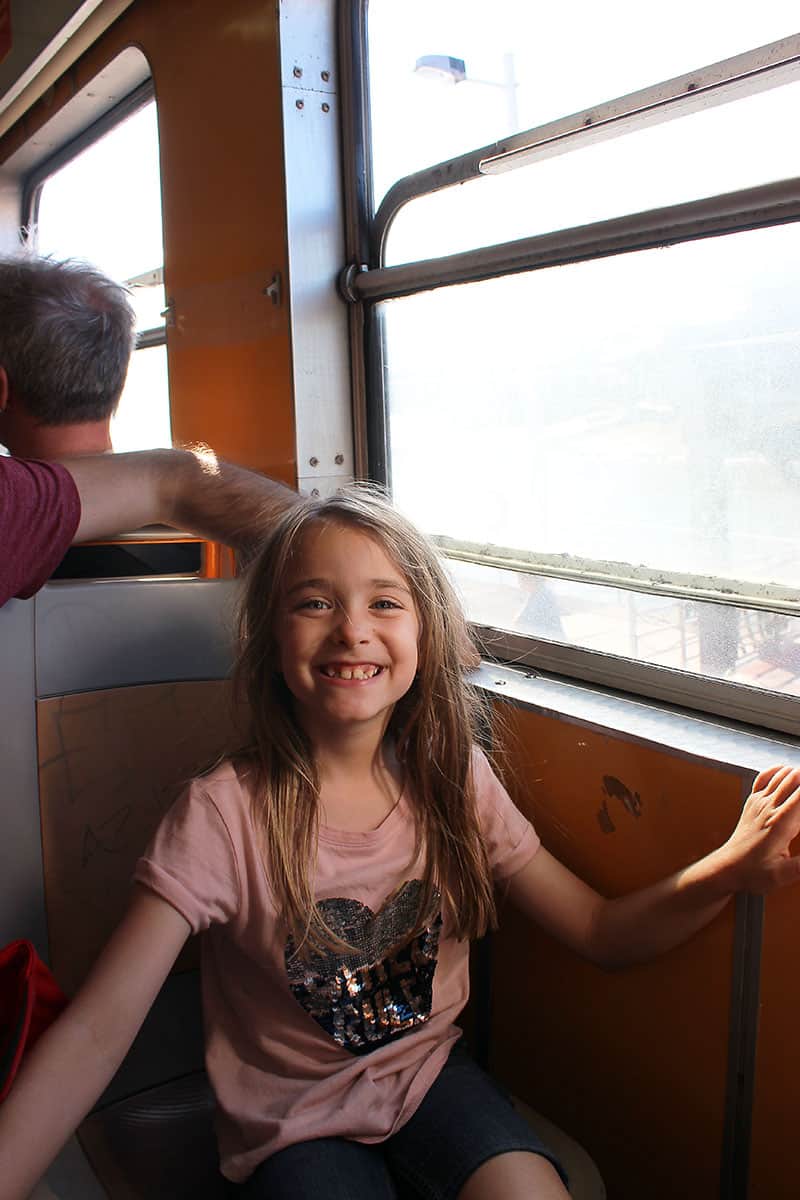 Finally a picture of the photographer, Liana.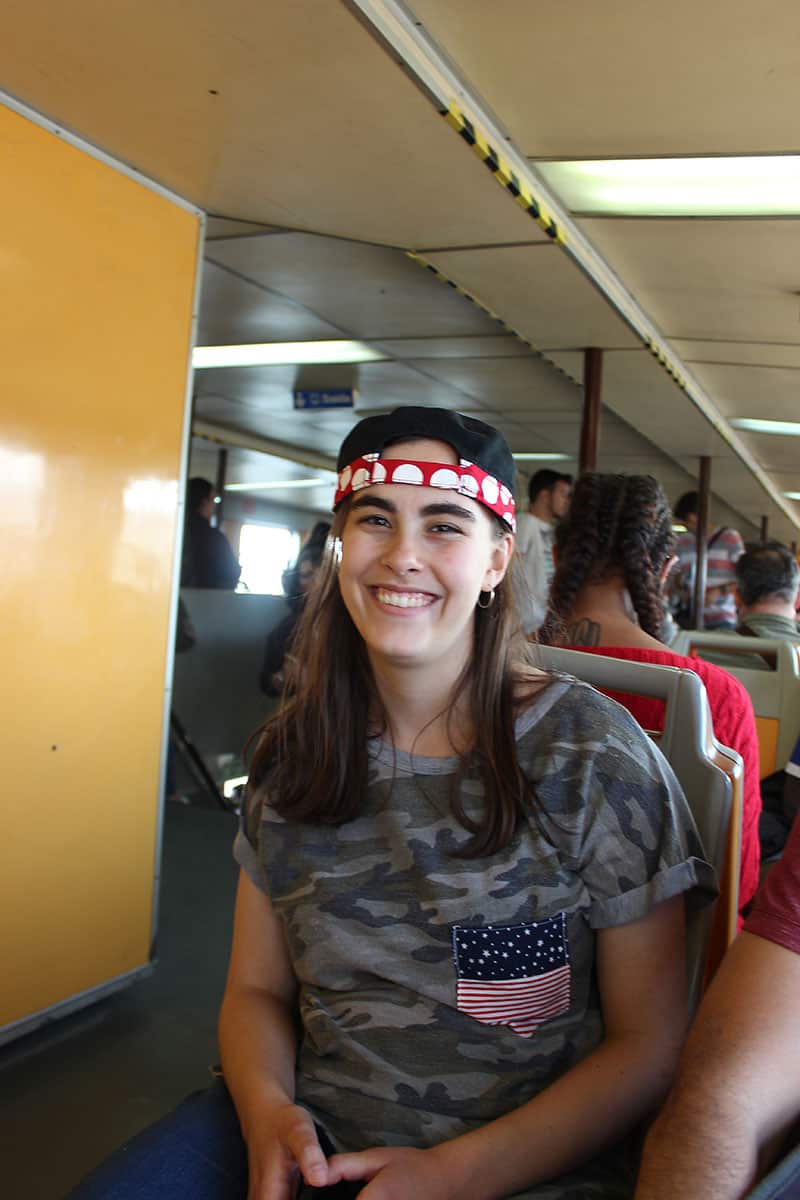 There is so much more than I can post here, but it's definitely putting on some good walking shoes and checking out Lisbon on foot.
Enjoy!

Copyright 2019 Teyla Rachel Branton
Reuse notice: you are free to print "The National Palace of Queluz" for personal use or non-commercial use with friends, share this post link anywhere, quote a short excerpt with attribution and a link to this site, but you may not use this post in its entirety on your own page. Thank you for caring about copyright.